At heart I am a New England girl! Although I have lived most of my life in Princeton, NJ (which I must say is as close to a New England feel as you can get in NJ), my early roots were in Rhode Island. I couldn't help being influenced by guernsey and cable knit sweaters, many of which were handmade with loving care and which can still be seen at the NY Sheep and Wool Festival (fondly know as Rhinebeck)!
With just a week to go until Rhinebeck 2013, I would like to introduce you to the sweater that I will be wearing, weekender, and to the wonderful yarn it is knit in, Yowza! Whatta skein! by Miss Babs.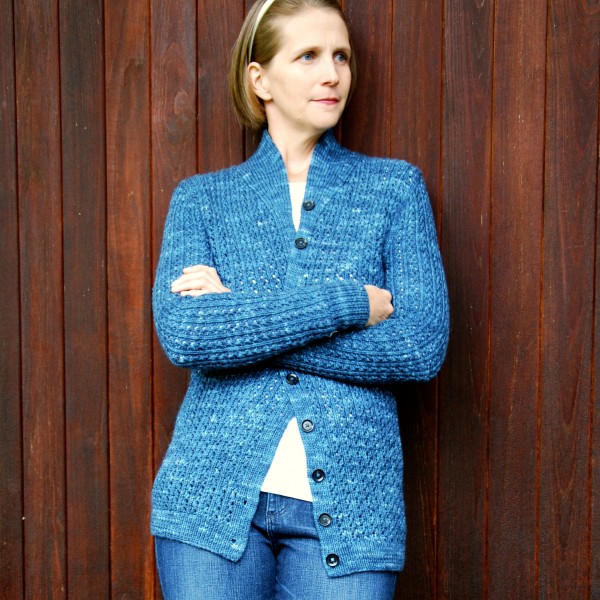 For me, Rhinebeck has become intertwined with Miss Babs Hand Dyed Yarns & Fibers and her wonderful hand-dyed yarns. Two years ago my tech editor, Charlotte Quiggle, roamed Rhinebeck and announced that the ONLY yarn she bought was from Miss Babs. I was amazed that someone who had made the trek all the way from Minnesota could limit herself to just one yarn (must be fantastic!) so I vowed to go see for myself.
I confess that I looked at Yowza! Whatta skein! on-line before going to Rhinebeck last year and was already sold. But in person Yowza stood out from the crowd! Certainly Miss Babs dyes all of her yarns in a plentiful array of wonderful colors and Yowza is noticably soft to the touch, but the true joy of Yowza comes with knitting it. It has a wonderful hand, is incredibly smooth and has a beautiful depth of color. It took me right back to my New England roots and those classic, hand-knit sweaters of my childhood.
Yowza is listed as a worsted weight yarn, but it is a perfect substitute for many of the other hand-dyed yarns that are listed as DK weight. For instance, my sweater, boyfriend, which is knit in Madelinetosh Tosh DK, would be perfect in Miss Babs Yowza (she has a sample of boyfriend in her booth that is knit up in Yowza). So in today's lexicon, it might be called a DK or light worsted weight yarn. It is superwash, which I am weary of because of the slipping when washed, but I experienced no issues with Yowza.
Oh my, I forgot to mention one of the most important things! Yowza comes in skeins of 560 yards… Yes, that is where the Whatta skein! means.
With the yarn set (the wonderful women who work at Miss Babs too time during their lunch hour to discuss which color would work best for my design and pattern stitch. They chose "cloak", which I must say was fantastic), weekender took shape. Knowing that I wanted a New England feel, I immediately thought of an eyelet stitch that I used in one of my baby sweaters, little eyes. The stitch reminds me of a traditional cable knit, but avoids the twisting and cable needle work.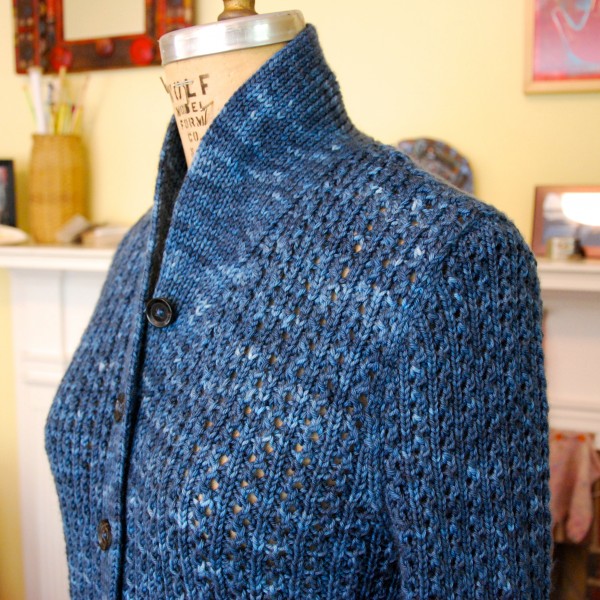 To modernize weekender, I worked a refined, high collar. I love working button bands along with the front panels and decided to do this for weekender. I like the look of the vertical ribbing and the way that the band hugs around the back of the neck. You can wear the collar folded over or standing up and the top button can be closed to pull the collar more snuggly around the neck to protect from the cool fall breezes.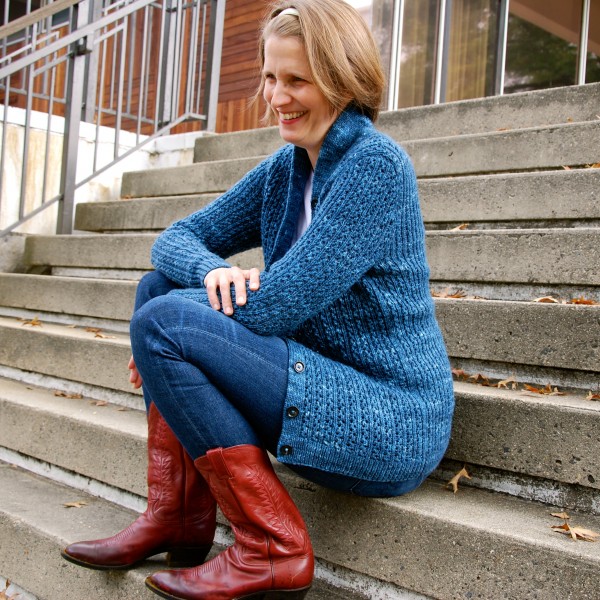 You can learn more or buy weekender on ravelry!
You can see all VERSACIKNITS patterns on ravelry, as well.
{ 0 comments }