I fist met Kristin Ford, the founder of the new yarn company, woolfolk, at a needle arts convention in 2012. I was a fledgling designer, walking the floor and she was a yarn company executive. We took to each other immediately and have collaborated ever since.
As part of the launch of my new collection, VERSACIKNITS woolfolk, I asked Kristin for an interview. I was hoping that she would share her passion for knitting, her love of animals and all things that grow and her sense of humor. She did not disappoint! After finding myself laughing out loud, I have decided that I need to include interview in its entirety. Make sure you read about the time she knit over a dozen puppy sweaters…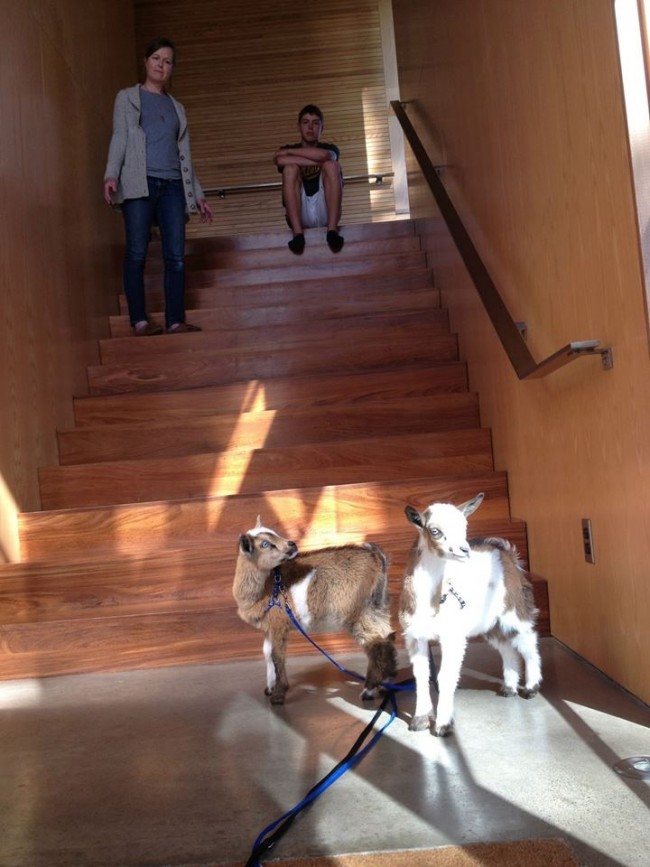 Kristin Ford (with son and goats) in the house she designed
LV: You chose to use your grandmother's name as the name of your yarn company. Tell me about the role your grandmother played in your life and how she inspired you. Do you have any favorite memories of her?
KF: I have so many….but I'll try and keep it knitting centric. She taught me to knit in kindergarten and took me to my first LYS. Before we went in, she said, "Now don't feel bad; they are rude to everyone, not just kids." We walked in and she looked at me and said, "Oh, don't you just get drunk on the colors?" She was married several times, loved to work and was in the designer department of the Bon Marche in downtown Seattle. She made my sister and I the most amazing Barbie wardrobes; real mink trim on our shantung suits, pink sheaths with red overskirts; beautiful. I remember her knitting a beautiful black fisherman sweater and cursing about cabling with black yarn. Lived in an apartment, where she somehow hand quilted each of us a huge bedspread quilt. Traveled a lot, by herself. I found a Geog Jensen necklace in her estate…and a wedding dress that had no story attached to it. Enough?
LV: We know you are an architect and a mother and that you raise livestock and crops and are a life-long knitter. So, what made you interested in the business of knitwear design and yarn distribution?
KF: The unbelievable part, for me, is that I get to do this. I really don't think of it as work. Through all of the phases of my life, knitting has been the constant, and I never get tired of thinking about it, conceptualizing collections or yarns, and of course, knitting. It's really about getting to channel a lifelong passion in to a business.
LV: There are so many yarns on the market. What did you see lacking in the industry that made you want to start woolfolk? What makes woolfolk different?
KF: I'd like to see the industry elevate its quality standards, especially in design. Yes, there are SO MANY yarns; and so many merinos. What makes Woolfolk different is the strong backstory behind the fleece, which is backed up by science and sustainability.
LV: What inspired the color palette of your collection? Will new colors be coming?
KF: I wanted to develop a palette that was timeless and matched the quality of the yarn, while still being fashion forward. I love doing gradient work, and was frustrated by the lack of color alignment in most yarn lines. The three main colorways…grey, blue, bronze….were developed by picking a base color, and adding a percentage of white or black for true color alignment. I lay the colors out on my table, in front of the big glass door, and look at them in different lights; and I try to imagine them in garment form. Is it a color most people could wear? Does it work well with others? I will be bringing in new colors in both weights next fall; no fleece for a spring collection, unfortunately.
LV: Describe the role sustainability and nature plays in your life (on your farm, in your architecture, etc..) Why is sustainability important to you, both in your lifestyle and in selecting the source material for your yarn collection?
KF: I really like the idea of knowing sources…..it's why we raise our own food. It's also so much better! I'd rather have less with higher quality, in all aspects of life. As cidermakers, we were part of the Slow Food movement, and if you think about it, knitting epitomizes Slow Fashion. Woolfolk's fleece is traceable back to the herd, and is raised as carefully and sustainably as a food crop. The quality of the fleece is apparent as soon as you start knitting with it, and is the result of farming practices and genetic selection.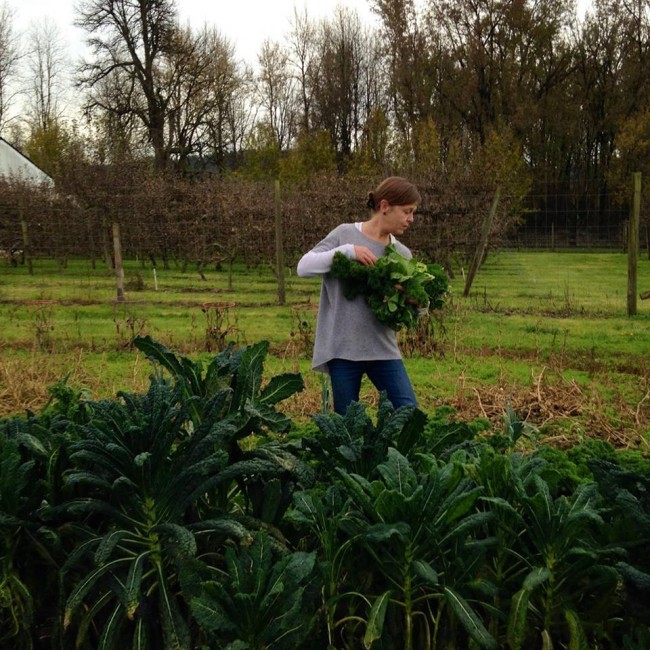 Kristin in her garden
LV: Tell me about your farm. What animals do you raise? What do you grow? What is your relationship with your animals like? Do you have any good animal stories?
KF: We have raised Highland Cattle for the last 20 years; they are wonderful animals–beautiful, calm, and delicious. We sell halves and quarters but are a very very small scale producer. I can't imagine eating anyone else's beef, at this point. For some reason, I have a small herd of Nigerian milk goats. I think it's part of my padding my empty nest before it gets empty. I love them! Bev and Judy are pregnant. Again. Also have had several litters of puppies; mostly labs but a few of Cavalier King Charles spaniels. Good animal stories? So many; probably the only knitting related one is the year my lab, Doris, was pregnant. Anna was about 6, and asked if I'd make the puppies sweaters. Since the vet predicted about 5 puppies, I said sure. She had TWELVE. And two people took two puppies and wanted matching, so I made 14 sweaters that fit for about five minutes.
LV: Now that woolfolk has launched, how are you feeling about it? What milestone are you most proud of? 
KF: I think Clara Parkes' review of the yarn had to be the high point for me. To have the endorsement of someone who understands and literally! wrote the book on handknitting yarn was a really meaningful moment for me. When I placed my initial order for two tons of fleece, in the back of my mind I thought that the worst case scenario would find me with enough yarn to last for the rest of my life. It hasn't turned out that way….I am doubling my order for next year!
LV: What were the challenges in developing your line so far, especially bringing it from idea to launch so quickly? Any horror stories?
KF: The biggest challenge was trying to predict the market. I knew I had an amazing product, and an amazing design team, but it is hard to start in any market. Horror stories? Nothing too bad; the empty shelves of half of the Får colors, after a month of sales, is probably the worst (or best?).
LV: What are your aspirations for your yarn collection in the future? 
KF: I would like to expand the line with fiber of equally high quality, which is proving to be a challenge in terms of sourcing something with the high level of quality as well as the strong backstory. I love the idea of being able to work with a limited number of retailers and to provide them with the best in customer service; I'd rather watch 30 retail partners successfully go deep into the line than to try and spread Woolfolk too thinly across the market.
How would you describe your design aesthetic? What sources of inspiration do you draw from?
KF: Drawing from my architecture background, I would say I'm pretty Miesian…less, for me, is definitely more. I love clean, minimal design, and see ornamentation without function as a detriment. Detailing and innovation are very important to me as well. I love colors in nature; I'm surrounded by sky, river, and fields.
For more information about woolfolk yarns, visit the woolfolk website.
To read Clara Parkes' review of woolfolk yarns, click here.
For more information about the VERSACIKNITS woolfolk collection, read this or view the lookbook.
{ 0 comments }