I am quite literally just about to pop over to Stitches West to help Yarn Culture set up their booth. But before I go, I wanted to let you know that KEYSTONE is now available on ravelry (and, of course you can come see it at the Yarn Culture booth at Stitches West this weekend)!
KEYSTONE is a luxe pullover, knit in Woolfolk TOV DK, designed to be as comfortable as your favorite sweatshirt. Woolfolk TOV DK has quickly become one of my favorite traditional DK weight yarns. It feels as soft as cashmere but has the durability of merino. Truly a joy to work with. It makes any garment luxurious and turns KEYSTONE into a sweater that you will want to wear every day!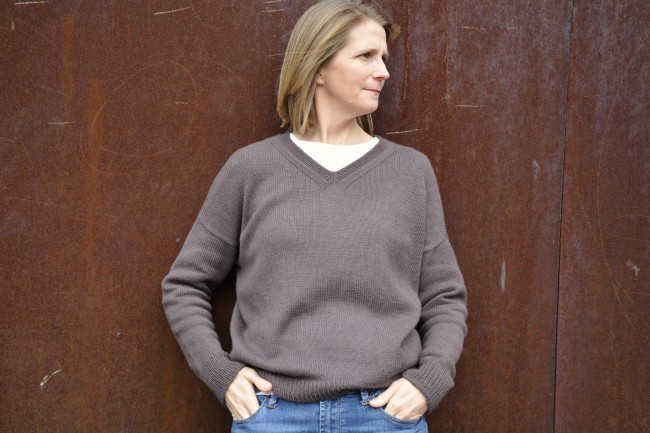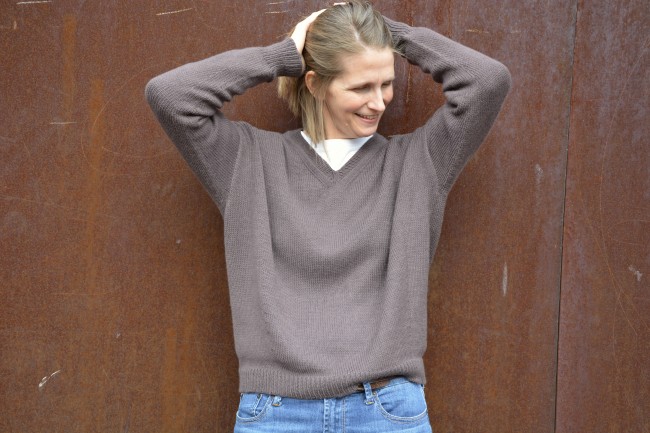 The shaping of KEYSTONE is what makes it so special. The bodice has a keystone shape formed with dart shaping, so that it is oversized in the bust but fits loosely on the hips. And has a refined v-neck shaped neckline.
KEYSTONE is knit all in one piece from the bottom-up, then is divided for the FRONT and BACK and worked flat to the shoulders. Then the shoulders are joined and the sleeves are picked up and worked in the round to the cuffs. And there are 2 different neckline options: a ribbed version for a more conventional look and a rolled version for a more relaxed look.
Since I have long wanted to hone my skills when it comes to casting on and binding off, I have included instructions for both tubular cast-on and bind-off. You can always use your favorite method, but maybe you, too, what to learn a new skill!
My test knitters (thank you Flo for the photo of your rolled neck version), found some other fantastic luxe yarns to knit their KEYSTONE out of, so go check them out on ravelry! All you need is some lovely traditional DK yarn and some great knitting time to knit yourself one of these comfy and luxe "sweatshirts".
If you are headed to Stitches West, be sure to come visit us in the Yarn Culture booth and you can see and try on FORM for yourself!! 
Read more about VERSACIKNITS on the blog and follow us on facebook and Instagram!

Thank you Flo, Dolly, Jude and Natalie for all of you help!
Happy knitting,
Lori
{ 0 comments }