Sometimes a design requires planning and pondering and working things out and sometimes a design just happens. The latter was the case with pour moi.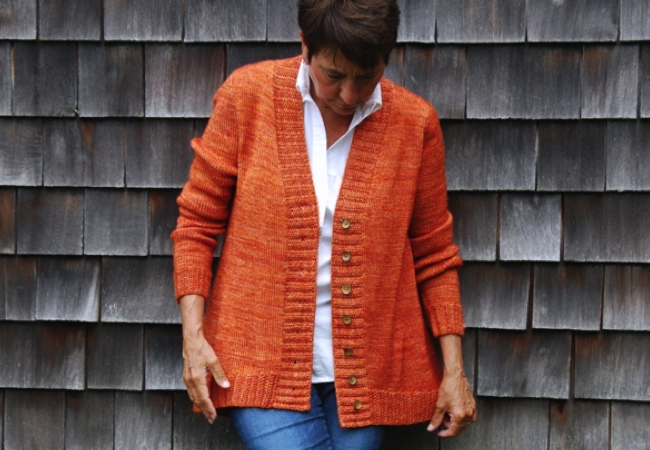 As you can imagine, I have yarn and projects stacked up for months before I actually work on them. But last spring I was at The Knitter's Edge for a trunk show and, of course, I had to look around to see what yarns they carried. And sure enough, they carry what has become one of my favorite MADELINETOSH yarns – Sport. Of course, a color popped out at me and said, "take me home!" I tried to ignore it. I left it on the shelf and went off to my trunk show, talked to people, helped people try garments on and pick out yarn for their projects. And I thought that I might just get away without the yarn…
But, of course, I didn't! I left the store with 5 skeins of the color terra! And when I brought it to my studio, it just kept calling to me and would not let me leave it alone. This was just a few weeks before the big yarn trade show, where I hosted a booth, so I was very busy preparing and REALLY didn't have time to start a new project. But then it hit me – "I need a new sweater to wear at the show!" So, I started knitting my ideal sweater, pour moi…
I wanted pour moi to be classic with a modern shape. I began with one of my favorite pattern stitches, seeded rib, created a graduated hem that begins in back and moves all the way to the front band, added an A-line shape so that the sweater is fuller at the hip but more fitted at the bust and finished with the same front band as the hem. My tech editor described pour moi as, "an attractive modern sweater that is easy to knit and wearable anytime, anywhere and any season." Since I designed it for myself, I couldn't agree with her more!
Pour moi has just enough variation to make the knitting interesting as well as enough stockinette stitch to keep it relaxing. Knit in pieces from the bottom up, short rows are used to shape the hem and the body is shaped through a series of side seam decreases. Once the pieces are completed, the shoulders and sides are joined, sleeves are set in and neckband sts are picked up and worked.
… And, no, it wasn't finished in time to wear for the big trade show, but I have worn it extensively since!!! Might have to knit another one…
One note about MADELINETOSH Sport: While it is listed as a sport weight yarn, to me, it is a traditional DK weight. It may be difficult to get gauge with a sport weight, so you may want to look at lighter DK yarns, if substituting yarn.
See more photos or buy pour moi on RAVELRY.
{ 0 comments }