A quick-to-knit capelet uses #8 needles and just two skeins of worsted-weight yarn.
 (a)symmetry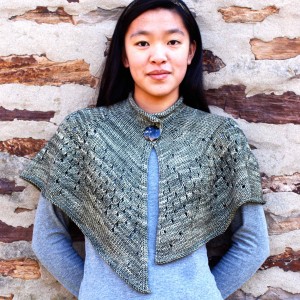 This quick-knitting capelet defies all the rules. Seam angles increase at different rates and fall at asymmetric intervals. Eyelets appear random to the eye.
The result is a textured knit that is fun to work on, with a beautiful drape and unusual line.
• Delicate in appearance with the warmth of worsted-weight yarn
• Elegant rolled neckline with single button closure
• Wear alone or over a coat for all-day warmth
Designed for texture and drape, (a)symmetry is knit in one piece from the neck down.