In 2009 my friend, Mandy Moore, and her friend, Leanne Prain, published the book, Yarn Bombing: The Art of Crochet and Knit Graffiti!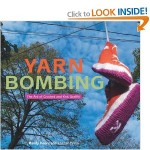 If you don't own a copy, you might want to buy it  (you can look through a few pages on the Amazon link). Since then, Yarn Bombing Day has become an amazing day of crochet and knit celebration!
Somehow I seem to miss the build up to yarn bombing day. I see bits and pieces of discussion about it, and then it is here and I haven't participated! This year was no different, except that I started thinking about next year… and put a reminder on my calendar for next May Day, so that yet another year doesn't go by.
So, next year, watch for some fun bombing from here — Will it be in Princeton or Vinalhaven? I will have to think about that… But Here are some great links to fun bombings that happened around the globe yesterday… Enjoy!
http://yarnbombing.com/
http://photos.nj.com/4645/gallery/frenchtown_yarn_bomb_2012/index.html
http://www.ravelry.com/groups/international-yarn-bombing-day/projects/
http://www.lamag.com/culturefilesblog/blogentry.aspx?BlogEntryID=10391470