I met Yuki on my first day of work on Wall Street back in 1979. By just looking at her, you knew she was unusual. Born of a Japanese mother and African American father and raised in the Quaker tradition, Yuki was, on the one hand, steeped in diverse heritages and, on the other, embarking on a career in the center of the world financial community. The consummate, modern young woman: Yuki was beautiful yet understated, accomplished yet humble, complicated/complex yet tranquil. This being so, Yuki was the obvious namesake for this design.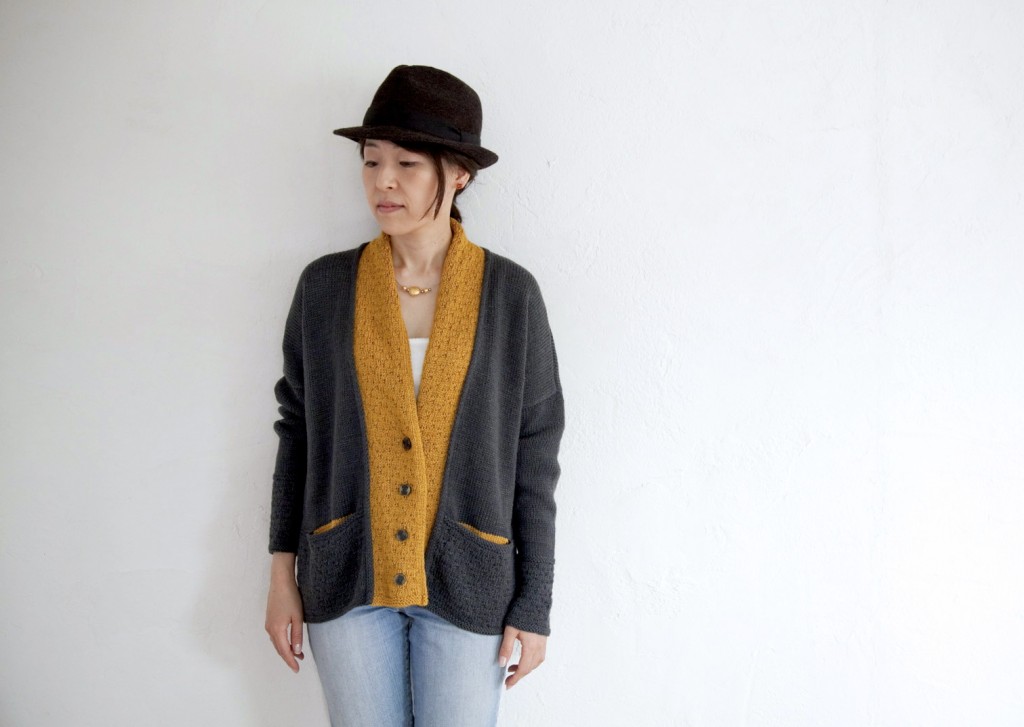 Photo by Amirisu
Inspired by the Japanese kimono tradition, Yuki incorporates modern details and scrupulous attention to finishing details to create an elegant yet simple, modern design.
Design Elements:
Scarf-like collar honors the kimono inspiration
Pockets for practicality
Splashes of color provides added interest
Underarm shaping and sloping shoulder creates a modern line
Pattern Stitches:
A tuck stitch forms an elegant edging
Garter stitch reinforces the transition from one part of the sweater to another
Stockinette shows off the beauty of the yarn
Techniques:
I-cord edging throughout achieves an elegant finish
Lynne Barr's "Speed Increase" makes a simple and clean pocket split
Short rows create a curved top to the sleeves
Construction:
Back, fronts, sleeves, and bands are knit separately
Pockets are worked with fronts, and sides of pocket linings are seamed
Shoulders are seamed, sleeves are set in, and sides are seamed
Front bands are joined and mounted behind i-cords on fronts and seamed
And finally, and perhaps most importantly, Yuki is knit in impeccable choice of yarns. In my mind, SHIBUI is unparalleled when it comes to a line of luxury yarns. Combined with the color palette, SHIBUI has everything that a hand-knitter could dream of. Here I have combined SHIBUI Cima (70% super baby alpaca and 30% fine merino) with SHIBUI Staccato (70% superwash merino and 30% silk) in colors Tar and Brass for a bold look and and supple, rich fabric with a subtle sheen.
As Charlotte Quiggle (my tech editor) said, "Yuki is the perfect knit for me – lots of simple knitting with just enough patterning and technique to keep me interested. And, the best part is that the finished sweater is gorgeous and timeless."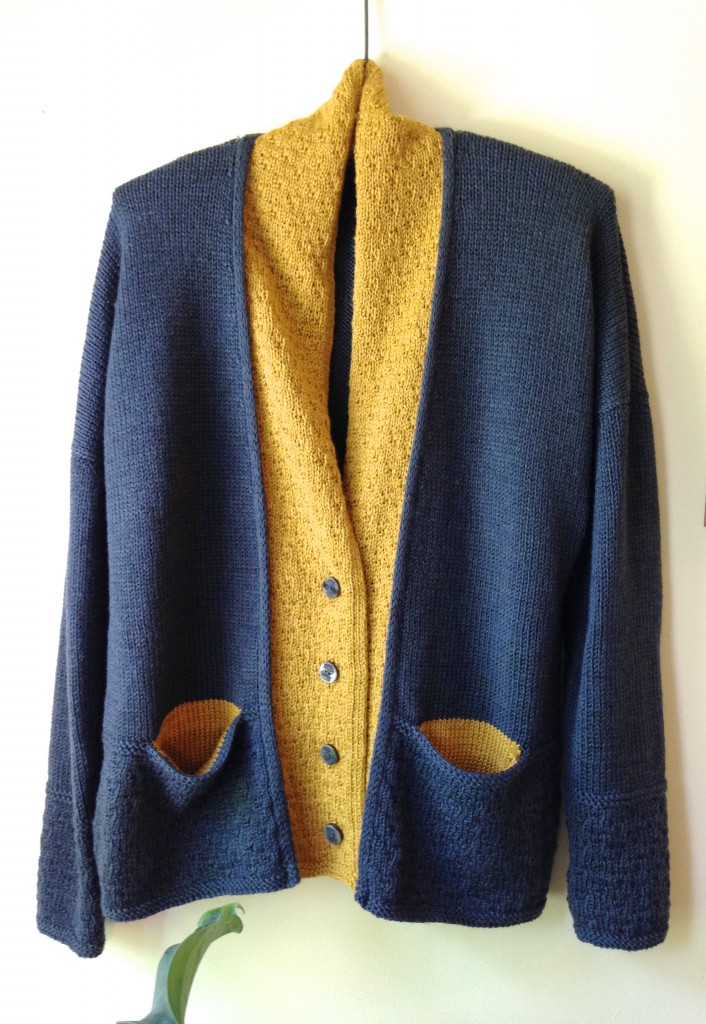 You can view more photos of Yuki in the newest issue of amirisu and view or buy Yuki on Ravelry.