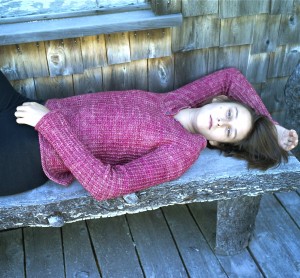 Knitting in Maine this summer, I had the wonderful pleasure of two days with Barbara Walker's Treasury of Knitting Patterns (I admit I have not one, but two of the original copies published by Scribners in 1968!) knitting a long, crazy scarf of different knitting patterns.  Out of these nirvana days, came five textured sweater designs. Tranquil is the second to be published — see (w)rapped, published in September!
Tranquil is a modern-day henley with everyday wearability.  Edged with rolled collar and cuffs, the fabric is "ornamented" with slim vertical bars for a flattering line and has plenty of stretch for a comfortable fit.  The raglan styling means all-in-one piece knitting and no seams to finish.
For all five textured designs, I used Madelinetosh's Tosh DK. One of the quintessential hand-dyed yarns, Tosh DK comes in a spectacular array of colors, is soft enough to wear with nothing underneath and is machine washable. Just remember to buy ample yarn to start with — she dyes in small lots and even within a lot there is significant variability.  I always buy an extra skein!  But good news, I have designed a two- or three-color cowl to use up all that extra, beautiful yarn!
Here is the pattern stitch —
Shadow Rib (multiple of 3 sts)

Row 1 (WS): Knit.
Row 2 (RS): *K1-tbl, p2; repeat from* to end.
Repeat Rows 1 and 2 for pattern.