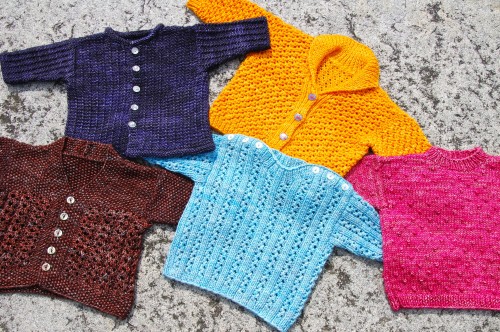 There is nothing more meaningful than receiving a hand made gift, especially when it's a gift for a new child.  Having found myself with more than a handful of friends/ teachers/ co-workers/ past nannies having babies, I took the opportunity to create a collection of baby sweaters, textured baby suite.
From my perspective, knitting a baby sweater should be easy.  It should take a lot less time than knitting an adult sweater.  And it should let us try doing something that we would never try for the first time on a full sized garment.
With those considerations in mind, I designed five little sweaters based on a single design template and used different pattern stitches to create different effects.   All are knit in DK yarn on size 6 needles — no size 2 or 3 for me – and I eliminated seams wherever practical.
Each little sweater has its own style and is fun and interesting to knit:
dot knots (pink) is a classic crew-neck pullover that uses dot knot stitch to add texture to a simple stockinette stitch fabric.
little eyes (blue) is a little button-collared pullover that uses eyelet rib to give a cable effect without actual cabling.
seeds and chains (brown) is a tiny v-neck cardigan that uses Italian chain stitch to create an open-weave pattern.
shadow ribs (navy) is a petite ribbed cardigan with slim vertical bars created with shadow rib stitch.
open stars (yellow) is a wee shawl-collared cardigan that uses open star stitch to create a textured, crochet-like look.
People love and treasure handmade baby sweaters, pass them down through the family, and put them away as heirlooms.  What better gift for a new baby than a tiny sweater from your own hands and heart?
The textured baby suite collection and individual patterns are available on ravelry!