After swatching Shibui's new yarn, Dune, it was clear to me that this was the perfect yarn for my bent cardi. With 25% baby camel and 25% silk, Dune's hand is amazing and it knit up beautifully: just enough drape, just enough sturdiness for a cardigan that you want to wear every day! Bent cardi has the same subtle curve from back-to-front and  plunging v-neck collar as bent, and with the longer sleeves and somewhat heavier weight yarn than my Staccato version of bent, I have been wearing my bent cardi more-and-more as the weather cools.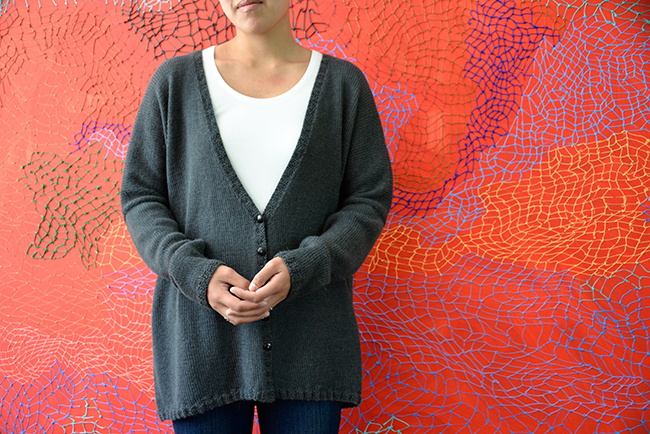 Now you have seen all of the Building Blocks series: tails, no tails, bent and bent cardi, and see that they vary in hemline, neckline and sleeve length. In addition, they each can be knit in any of 8 different Shibui yarn combinations, varying the weight and drape. So the possibilities are endless!
To encourage your creativity, now until the end of the year, if you buy 3 of the Building Blocks patterns on ravelry, the 4th one is free! No coupon code is necessary and previous purchases are included!
You can see all of VERSACIKNITS designs on ravelry. We all hope that you will take a moment to go and heart and queue all of the Building Blocks designs!
Happy knitting,
Lori