As you already know, I am not a traditional lace shawl knitter, but I fell in love with the look of this simple lace pattern, while swatching for a new sweater idea. Most of the time, I find lace knitting to be tedious, but with this pattern I found that I could get into the rhythm of knitting on one side and simple [k2tog, yo] sequences on the other. And I loved the resulting fabric, which reminds me of the knotted bait bags lobsterman use on my beloved island in Maine.
When The Plucky Knitter sent me 3 skeins of her new Cashmere Aran, I jumped on the chance to try designing an easy-to-knit, modern wrap using a worsted weight yarn and the herring lace pattern as the base. The wrap had to be easy-to-knit with simple, modern architectural lines and have a shape that I could wear around my neck every day. And so, herring was born!
Just to give you an idea of how much I love herring, as soon as I finished my first, I immediately knit one in Madelinetosh Vintage and another in woolfolk FÅR! Now I am working on one in Miss Babs YOWZA.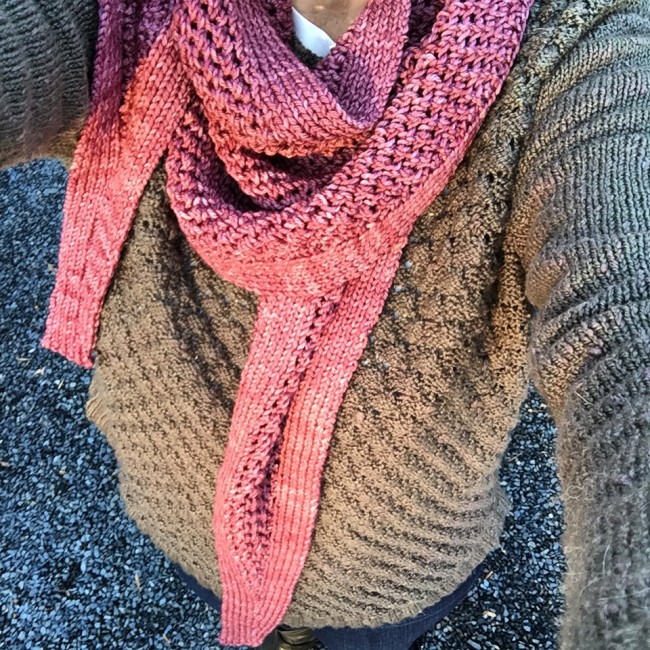 Worked flat from end-to-end in worsted weight yarn, herring begins with an increasing ribbed border that is then split in 2 with the insertion of the Herring Pattern in the center. The pattern stitch between the borders continues to grow to its total width, is worked even, and then decreases back until it's eliminated. The ribbed border continues to decrease down to its original stitch count. Knitting is made as easy as possible, with the stitch pattern worked on one side and the inc/decs worked on the other.
Herring is designed to be an ample 82″/208cm end-to-end and 14″/35cm at its widest point. The size of the wrap can be easily modified by varying the number of incs/decs worked or number of rows worked in the Maintain Pattern section.
So, get yourself the pattern, pick out a luxe yarn and start knitting! I guarantee you will want to wear your herring all the time! So, please take a moment to go view all of the projects and heart and queue herring! You can also see all of VERSACIKNITS designs on ravelry.
Happy knitting,
Lori