The line between art and craft can be a blurry one.  While I happen to think of my work as art, I think most people would agree that "craft" – let's say, knitting — is the application of a skill with the intention to create a useful object – let's say, a sweater.  When that same skill is applied with the intention to create an object with no practical utility, one that appeals purely to the imagination – say, a knitted flag — we call it "art".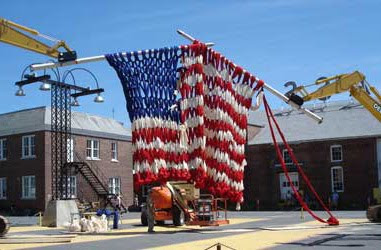 Around the Fourth of July, this knitted flag photo started circulating around the knitting community on Twitter and Facebook, with no mention of the artist who had created it.  I was mildly perturbed, since I knew who the artist was, but I have to admit that I didn't bother to chime in to make the attribution.
It wasn't until I visited my father in Providence RI last weekend that I felt compelled to give the artist due credit.  My father is a patron and collector of art, and right there on his bureau was the original model that was created for the knitted flag.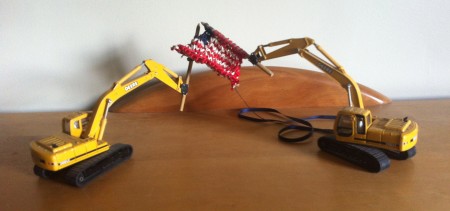 The artist is Dave Cole, and the actual knitting of the flag, called The Knitting Machine Installation, took place in 2005 for Mass MoCA, a contemporary art museum in North Adams, MA. You can see photos of the installation here.
This was by no means Dave's only involvement in knitted art.  He has created pieces knit out of a myriad of materials, including spun porcelain, electric cord, and fiberglass.  His work was featured in Sabrina Gschwandtner's book KnitKnit: Profiles and Projects from Knitting's New Wave.  More recently, he did a major knitting graffiti project in Melbourne, Australia, covering a pedestrian bridge in fluorescent orange and pink knitted fabric.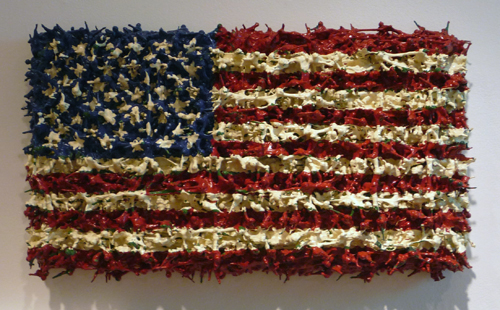 The knitted flag wasn't the first time that Dave created art that featured the red, white and blue. He also made a splash, particularly with my father, with his renderings of the American flag painted on toy soldiers. One of these works, Toy Soldiers #12, is currently on view at Rhode Island School of Design's Museum of Art in a show called "Everyday things; Contemporary Work from the Collection."
Dave's fascinating approach to knitting and art is the outcrop of years of learning challenges that many of us artistic types faced and can be gleaned from the book he co-authored, Learning Outside the Lines: Two Ivy League Students with Learning Disabilities and ADHD Give You The Tools for Academic Success and Educational Revolution.  While I have never met Dave, I do have one of his fabulous toy soldiers in my house, I too have a learning disability and we both knit, so we have a lot in common.
As for whether I am an artist or a craftsperson, who knows?  While I am usually involved in applying my skills to create wearable objects using knitting as my medium, I have other ideas in mind, too, like yarn-bombing the eagle on Vinalhaven, the Maine island where I spend summers, adding my craft to the craftsmanship of those fabulous granite cutters of yore.  So, for the time being, when I have to list my occupation on a form, I will just leave it blank!