During last fall's Fashion Week in New York, I woke up every morning to photos from the previous day's shows. Sweaters were all over the runways, from lightweight, romantic knits paired with satiny, flowing skirts to sturdy, boxy cardigans topping tailored pants. The ones I loved best were full of structure and shine, and from them I drew inspiration for a v-neck pullover with a couture twist. Thus was born a la mode, the first sweater in the Twin Rib Collection.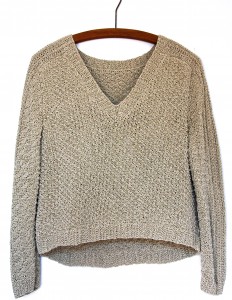 I admit, a la mode is not an easy knit. This textured v-neck pullover uses three different pattern stitches. It has saddle shoulders and short row shaping, and it is narrower in the front than in the back. The ultimate contoured sweater, a la mode is comfortable and versatile – and it's my favorite design to date.
But it is not a knit for everyone, so I started thinking about what I could do differently with the design elements in a la mode to create equally fashionable, textured, easy-to-wear designs that were not quite so complicated. By deconstructing a la mode and then reconstructing it in different ways, I created the Twin Rib Collection.
This series of five original sweater designs all have couture detailing like the sweaters I saw on the runways. Joining a la mode are: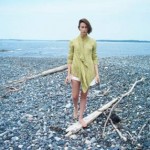 prosecco… an asymmetric wrap cardigan,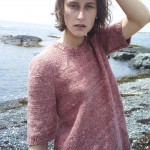 biscotti… a basic shell that's both fitted and flowing,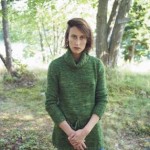 farfalle… a long tunic with hourglass shaping and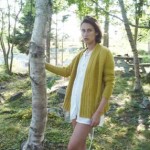 tiramisu…a pocketed cardigan with strong vertical lines.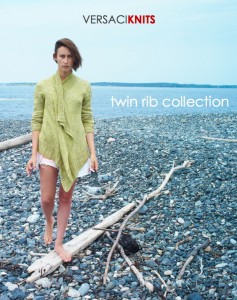 Twin rib stitch is used in all of the designs but to very different ends, resulting in a wide array of sweaters that run from oversized to fitted, cardigan to pullover, with v-necks to cowl necks.
Each sweater is knit on size 6 US/4mm needles from a different type of DK weight yarn. The sweaters shown are knit in a hand-dyed 100% merino wool, a 2-ply twisted merino, a hand-dyed 100% silk, a polyester-wrapped cotton, and a rustic blend of wool, cotton, linen, and soya. Yet, because they all use the same weight yarn, the five designs and five yarn suggestions can be interchanged to achieve very different results.
So welcome to my new collection. My hope is that you will love knitting – and wearing – these sweaters as much as I did designing them!
To learn more about how to buy VERSACIKNITS Twin Rib Collection or any of the 5 original designs, click here.