About six months ago I started thinking about how fashion lines have changed, since I started designing some 8 years ago. I wanted to work toward a collection of garments that would be considered NEW BASICS! I thought about a few of my classics and considered how I would re-design them today. I started with one of my all time favorites, SUIT!
SUIT was what I thought of as "office wear" for my new career as knitwear designer. A comfortable, oversized cardigan that I could live in and pretty much get away with wearing and know that I was dressed "appropriately" no matter where my work life took me.At the time, I loved oversized sweaters and spent a good deal of time trying to find the perfect one (EMBRACE,  CLARA, PROSECCO) and SUIT was the most traditional.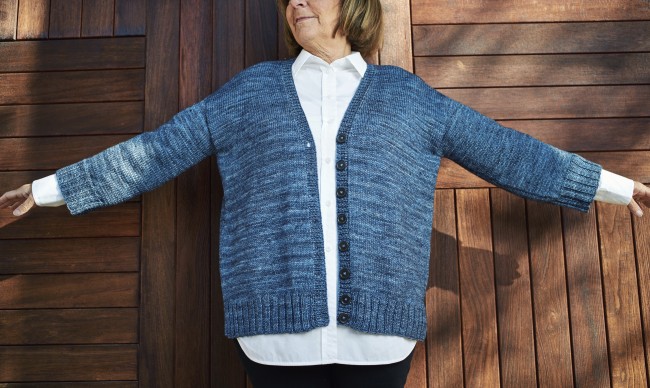 Today I love loose fitting, easy clothes with very simple, yet modern lines. NEW SUIT is roomy with up to 12″ of positive ease (I have reduced the amount of positive ease as the sweater goes up in size), NEW SUIT's fit is what I would call comfortable! While NEW SUIT does have drop shoulders, I have sloped the shoulder tops significantly, so that the extra ease drapes beautifully along the sides rather than bunching up. The sleeve top is also shaped, so that the shoulder-to-sleeve line continues all the way from the shoulder to the wrist. But my favorite detail on the sweater is the sleeve shape! After perusing last fashion magazines, I decided that a "not quite full length" loose fitting sleeve which falls to just above the wrist looks fresh and modern, and is exceptionally comfortable. And, of course I included a small side vent!  Like the original, I think of NEW SUIT as a suit jacket that can be worn with anything, any time, any where!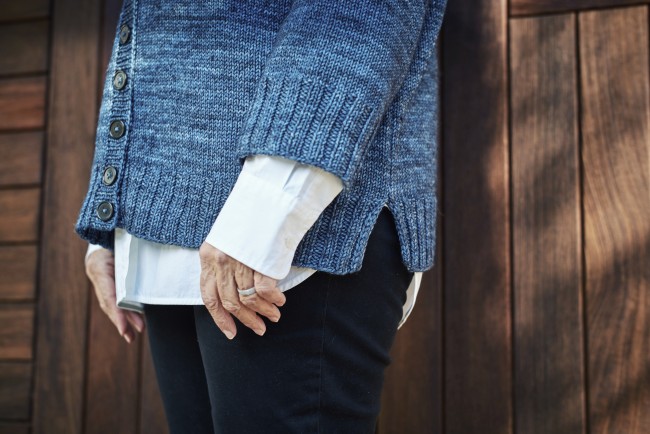 I chose to knit NEW SUIT in a heavy DK weight yarn at a gauge of 20 sts per 4″, so that it would be easy and fast to knit, and also easy to wear. Continuing my quest to work with indie dyed yarns that I have been following for several years, I chose House of A La Mode's   Dreamy DK (color: The Smokey Semi Collection – Alpine; 100% Merino Wool SW; 250 yds per 115g skein). I have to say that when the yarn arrived, it was all I could do not to start knitting! Winding and knitting with the yarn did not disappoint! While I am sure that I alternated skeins, the variation in the dying was not overpowering and the amount of variegation is just so pleasing to the eye. And the color is simply divine. Sometimes looking smokey grey and sometimes bright blue. And now that I have worn my NEW SUIT for nearly 6 months (yes, it took me far too long to actually get this design from finished sample to publication), I am amazed that there is still virtually no pilling!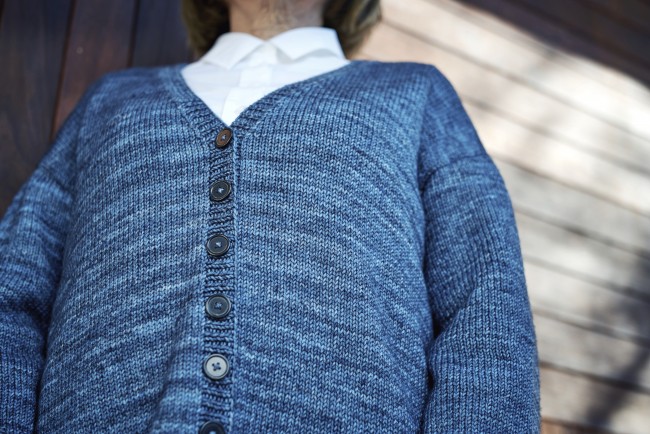 Heather, of House of A La Mode promises me that she will add the Smokey Semi Collection yarns into her Dye-to-Order slots during her regular Monday shop updates. Trust me, it is worth waiting for! And the NEW SUIT KAL doesn't start until September, so you have some time.
That having been said, there are plenty of wonderful yarn options for NEW SUIT. Certainly take a moment to go look at the lovely choices of the 10 ladies who test knit for me. And check your stash. Substitute yarns include Miss Babs YOWZA, Madelinetosh Tosh DK, Malabrigo Arroyo and Cascade 220. Oh yes, and just because we chose to use semi-solids doesn't mean that NEW SUIT wouldn't look great in a speckled choice or even a fade! Perhaps La Bien Aimee?
NEW SUIT is an easy and fast knit! It is the perfect first sweater or, for the experienced knitter, a great binge TV watching knitting choice. Whether a first time sweater knitter or an old salt, come join the NEW SUIT KAL in the VERSACIKNITS knitters ravelry group. While we don't have hard and fast rules, the KAL will kick-off in earnest on September 7th!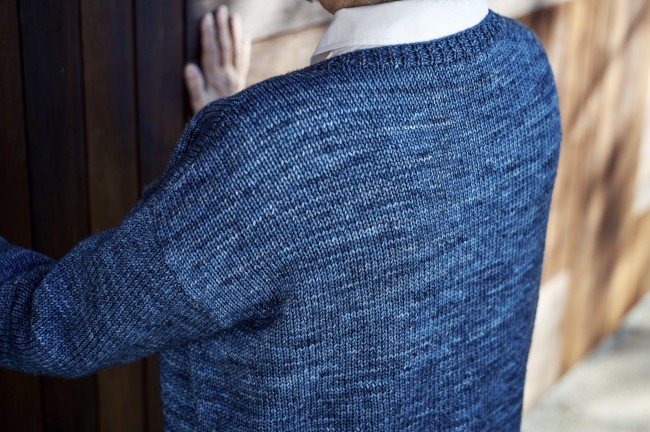 Head over to ravelry to learn more about NEW SUIT, see all of the wonderful test knits, heart and queue or buy your copy of the pattern!!!
Lori