It's time to Color Your Stripes!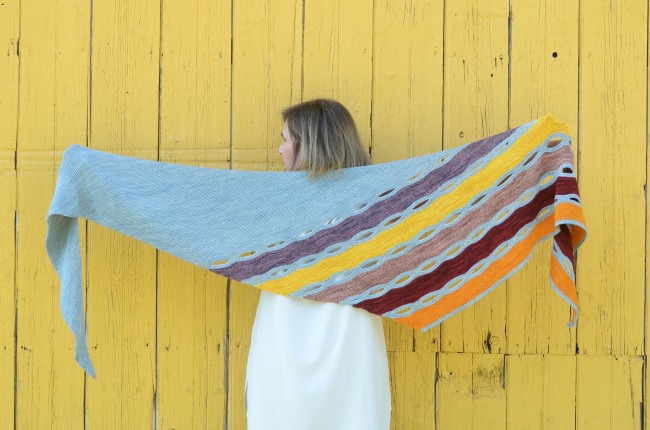 The next in my ongoing quest to discover the joy of shawl knitting is COLOR MY STRIPES! A simple, asymmetrical striped shawl, COLOR MY STRIPES uses elongated one-row buttonholes to add a bit of whimsy. The shawl is knit tip-to-tip in garter stitch, with increases on one side and decreases on the other, creating a triangle on the bias.
For me, the big challenge with this shawl is deciding what order to knit the stripes in, which, of course,I learned the hard way. In my normal, full-speed-ahead mode, I knit and ripped and knit and ripped, until my artist daughter said, "why don't you just color it?".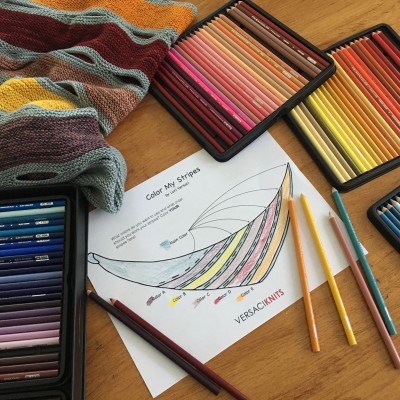 So I did!
And I have included the "coloring page", with the pattern, to allow you to decide YOUR color order before you start!  But, if you want to get started dreaming, before you buy the pattern, you can download your own coloring page here!
The actual pattern is written for two sizes: The large version has a wingspan of 97″/246cm making it large enough enough to wrap yourself in and the small version has a wingspan of 72″/183 cm which is perfect for statement shawl or neck warmer.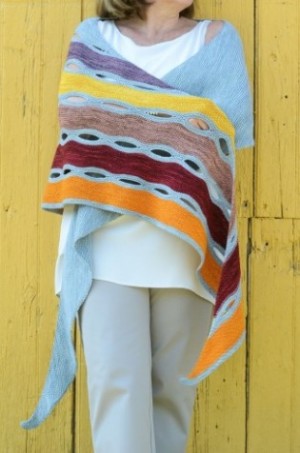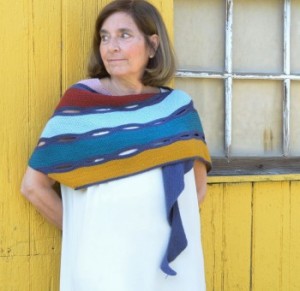 I knit my COLOR MY STRIPES in two magnificent yarns: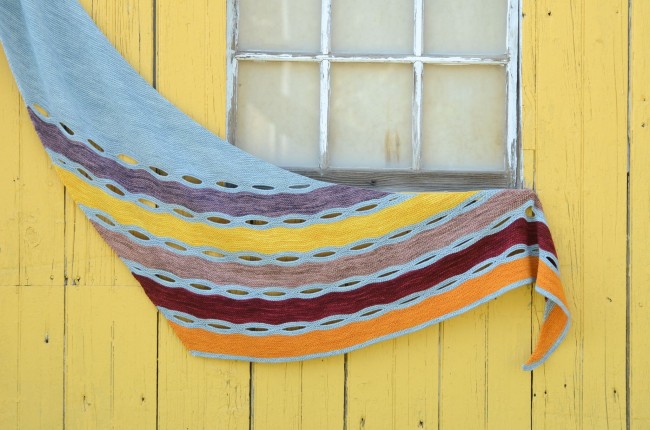 My first one (the large one) is knit in Jill Draper Makes Stuff Esopus, which is a beautiful, high twist, superwash merino, that Jill sources in the United States and dyes herself. I started with the grey/blue color, Stormy, and then used a color set that Jill had picked as a kit for the lovely Fort Tyron Wrap by Kirsten Kapur. I could not resist the colors, so when I envisioned this shawl, I went right to my stash and pulled them out. Jill also has a lovely new  fingering weight yarn coming, which will also be perfect for COLOR MY STRIPES and I am sure as soon as she returns from her summer break, she will be telling us all more about it and putting kits together. Stay tuned!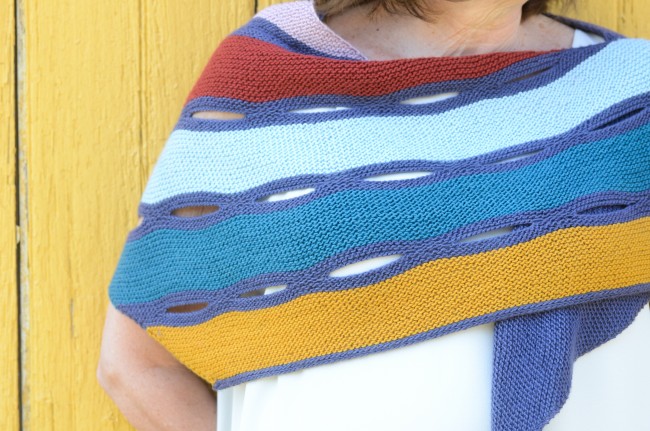 My second COLOR MY STRIPES (the small one) is knit in a yarn new to me, Crave Yarn. I was introduced to the dyer, Amor, by the owner of Yarn Culture, who carries the full line of Crave Yarns, and promptly set about picking my colors, with Amor's help. I love the saturated jewel tones and the single ply, ultra soft feel of this yarn (90% merino and 10% cashmere). Amor is busy putting together kits, which will be listed in the Crave store on Monday, June 26th! You can also see her Yak and Silk yarn,Thoreau, another great choice, at Yarn Culture's shop!
For more information about COLOR MY STRIPES and to heart, queue and buy the pattern, click here!
To see all of the VERSACIKNITS designs, head over to my designer page on Ravelry!
And, read more about VERSACIKNITS blog and follow us on facebook and Instagram, so make sure to follow us!
Happy knitting,
Lori