It has been many years since I knit a pair of socks! Actually, nearly a decade! Yet back in June I found myself in Shetland on one of Gudrun Johnstone and Mary Jane Mucklestone's Grand Shetland Adventures (you really should go on one) and realized that the most important thing that I didn't have with me was a really good pair of wool socks! I coveted the beautiful hand knit Kanoko Socks that Mary Jane kept wearing and I swear that Andrea Rangel and Malia Mather (Stephen and Penelope) had on a different hand-knit pair every day!!! And I love socks! I have a great collection that includes Marimekko, Catherine Andes and many others. …  So why don't I knit socks?????
On the flight home, it all came together: my Op-art Cowls motifs would make fantastic socks!!!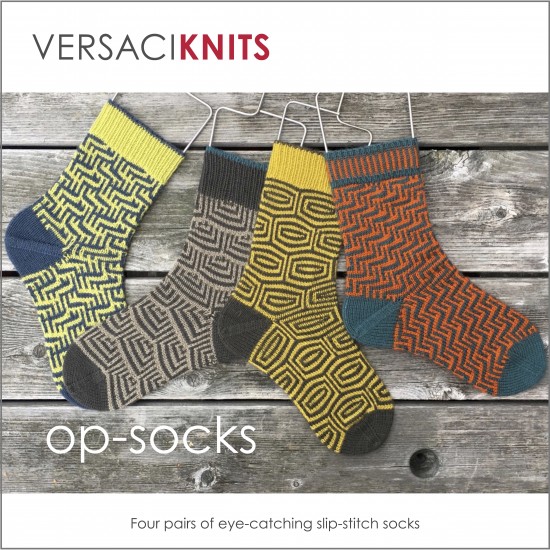 Since I hadn't knit socks in so long, I had to spend a good deal of time re-learning how to knit them. I explored methods (cuff-down, toe-up), heel types, needles and even tried out my knitting belt! I learned how to do afterthought heels and tubular cast-ons and even learned about what yarns are not well suited to socks (like the Jamieson's Shetland Spindrift that I knit my first pair in shown below, which I still  love because they remind me of Shetland and they are squishy and warm, but unfortunately will not wear well)! And then I set out to reinvent the Op-Art Cowls into Op-Socks….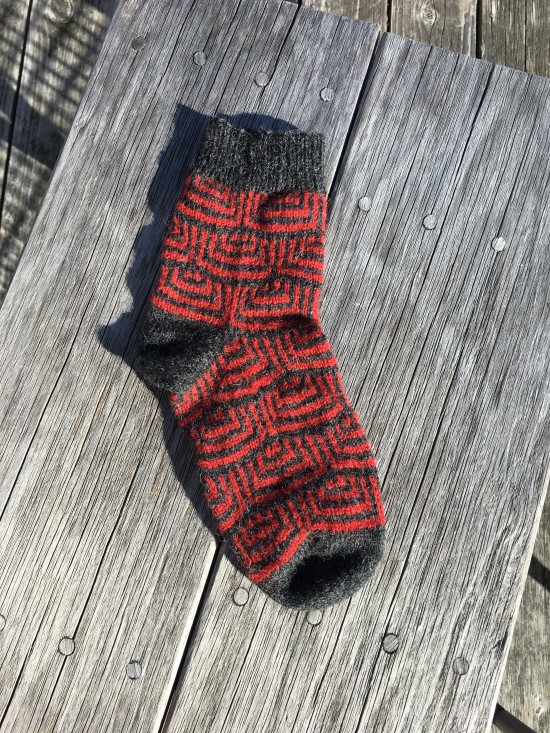 In the end, I decided to knit the 4 different Op-Sock motifs in a different color combination of YOTH Little Brother yarn [80% Superwash Merino Wool, 10% Cashmere, 10% Nylon; 435 yds/100g per skein]. I happened to pick up a set of Little Brother "Puppies" at Stitches West last February and each pair uses 2 of the 1/2 skeins. Shown below, from left: Cuboid in Concord Grape and Star Fruit; Conic in Portobello and Shiitake; Spiral in Thyme and Mandarin and Superellipse in Portobello and Mango.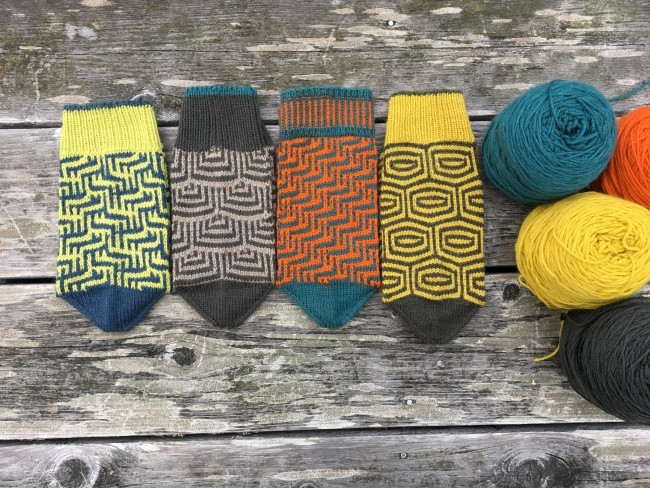 The patterns are available as individual downloads or as a collection. The collection includes all 4 motifs and is priced 40% below the cost of the individual patterns.
Head over to ravelry to see more photos and learn more about Op-Socks and heart and queue or buy the ones you like best or the collection!!!
Read more about VERSACIKNITS on the blog and follow us on facebook and Instagram!
Happy knitting,
Lori