GEORGIA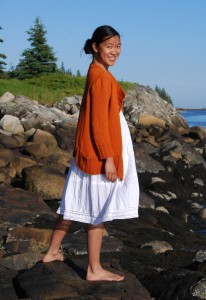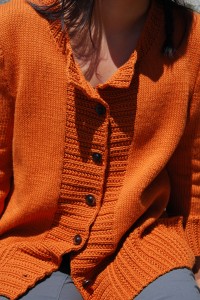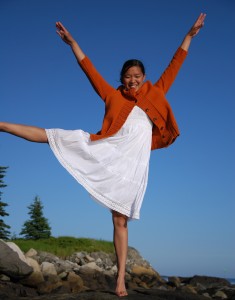 Somewhere between a summer jacket and cozy cardigan, Georgia is for a woman on the go.  Knit in soft organic cotton, with handy pockets for your keys and phone, Georgia is a summer wardrobe staple that can go wherever you go.  Whether you throw it on over your bathing suit or drape it over a dress, wear it with jeans or dress it up with pearls, you'll always look sharp.
Design and Fit
Georgia was designed to blend comfortable fit with eye-catching detail.  Fitted at the shoulders and comfortable in the bust, it has an A-line bodice, pockets that drape to the sides, and ¾-length sleeves.
This sweater design continues my experimentation with Twin Rib stitch. Here, I have used Twin Rib with A-line shaping to create texture, drama, and a bold angularity. Think Frank Lloyd Wright's organic shapes held together with horizontal and vertical lines.
Knitting It
While Georgia isn't a difficult knit, it does require paying attention, since there are lots of moving parts, but that's what makes it fun and satisfying. First, the pocket linings are knit in advance, and then the bodice is worked all-in-one piece to the underarm.  From here, backs and fronts are worked separately to the neck, and then the sleeves are worked separately and set-in.  After the shoulder seams are joined, the front bands and collar are worked to finish off the sweater.
The sweater shown here is knit in Blue Sky Alpaca's 100% organic Skinny Dyed cotton yarn, which has a beautiful feel, is a joy to knit with, and comes in fabulous, rich colors (the color here is Squash).  You can also substitute another DK-weight cotton, or knit it in wool/ alpaca (Blue Sky's Suri Alpaca?) for cooler days.
Georigia is now available on ravelry…